000 days 00 hours 00 minutes 00 seconds
In the world where an enormous amount of non-renewable resources is extracted from the planet to produce clothes, 70% of which will eventually end up in landfill or incinerated, we need a solution. Redesigning and reworking keep garments in use and reuse. Through upcycling, we can add value and breathe new life into old clothes.  
Responsible fashion consultancy Destination AMA and non–profit organization that ignites social change and serves major ecological concerns THE Home are joining forces and taking action to heal the broken system by offering everyone to take part in creating a circular and climate–positive world.  
We invite fashion brands, independent fashion designers, artists, and anyone who simply wants to create to participate in our #UpcycleForTheHome contest we will be hosting on Instagram. We will be donating all the pieces to THE Home, and help the organization to raise money to support its mission.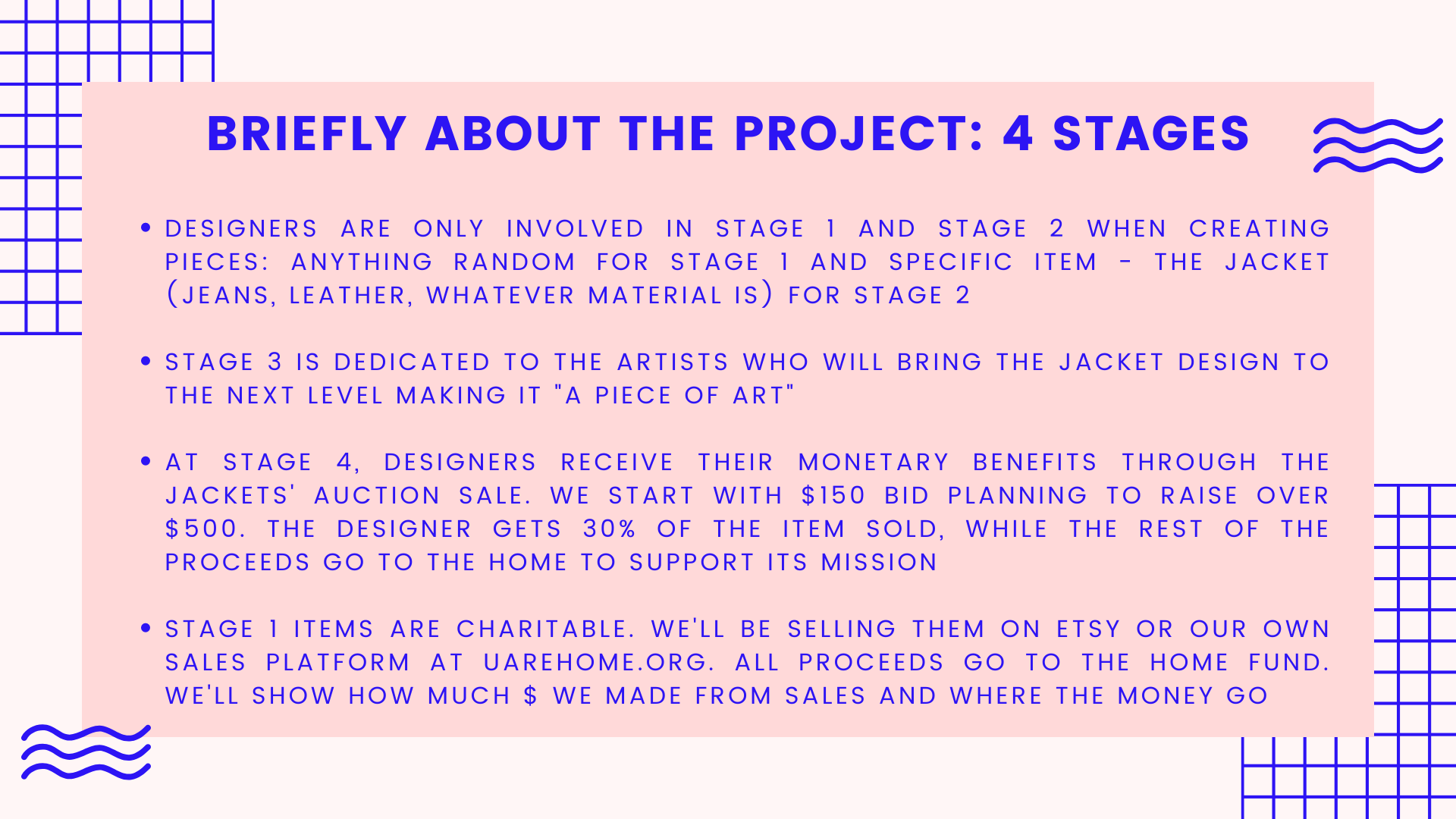 In case you are not familiar with the concept of fashion upcycling, it involves using pre-existing clothing, accessories, or other items and restructuring them into new garments. Think of old sweaters being unraveled and the yarn being refashioned into new ones, or deadstock, otherwise known as fabric that is leftover from the fashion industry, can also be used to create new clothing.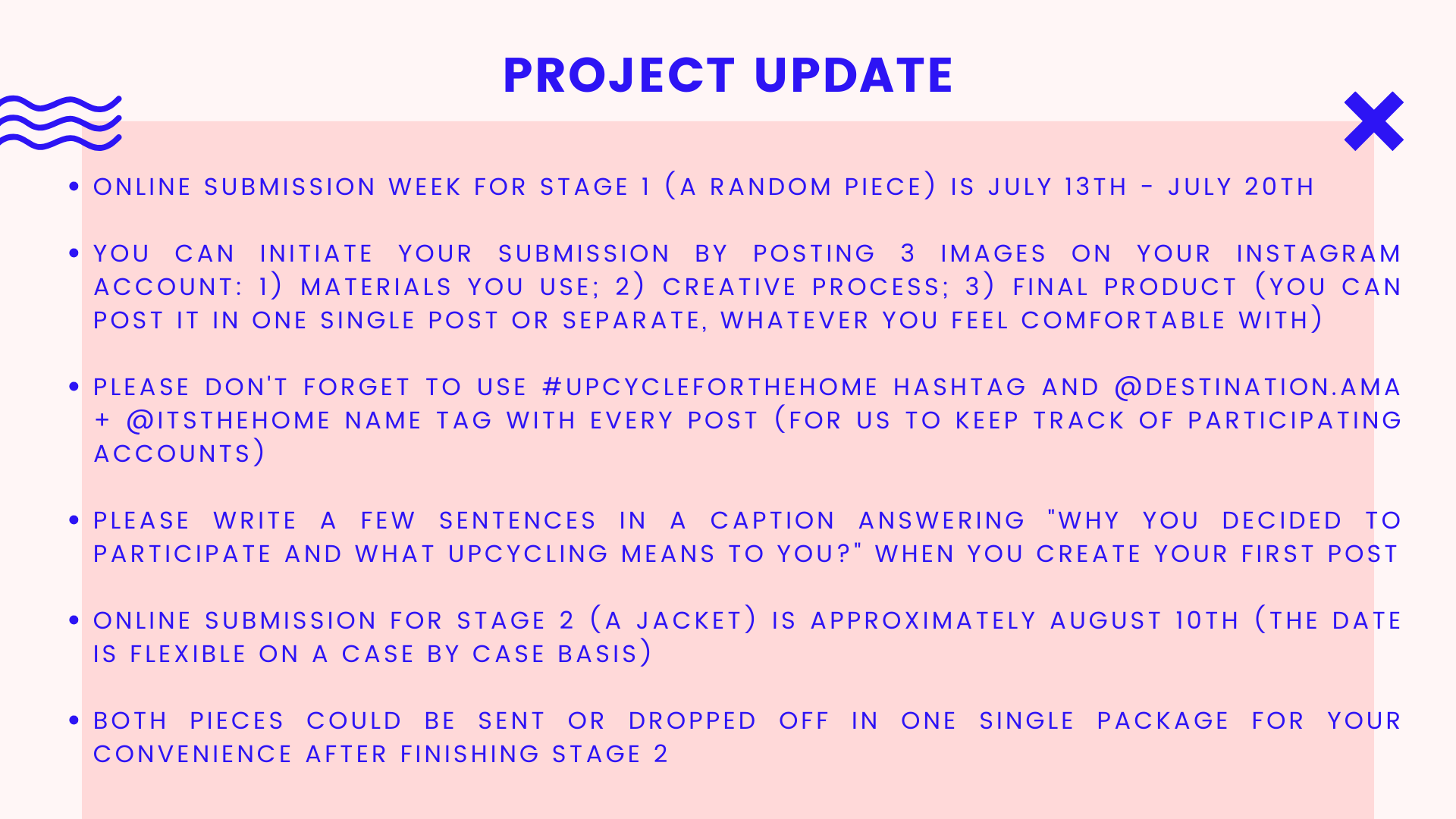 Our goal is to create a healthier community, build goodwill in it, expand horizons by collaborating on cross-industry levels, and serve bigger purposes of being united by the same goal of doing good for a better future. 
Even if you do not consider yourself as a fashion designer, but creativity is calling you – give yourself a try! 
Everyone is welcome. 
There are many issues associated with fashion-related activities, such as climate change, water stress, hazardous chemicals and pollution, land use and biodiversity loss, diminishing natural and human resources, consumption and waste, modern-day slavery, and wellbeing. While the fashion industry isn't solely responsible for this, as one of the world's biggest and most impactful sectors, it has a critical and challenging role to play in safeguarding the future for generations to come.  
 Most of the fashion today produced in a linear system of "take, make, dispose" model. 
Trends are at the core of the industry, pushing luxury and fast-fashion brands to create more and more collections each year. In response, shoppers are forced to keep up with the growing supply buying every trend that pops up on the market. When the cycle begins again a month later, the off-the-moment clothes we just bought now are left to gather dust in wardrobes or even worse – in landfills. 
To have a clear picture of what we are dealing with, here are some facts on overconsumption that results in more non-renewable limited resources are derived and more waste created at the expense of the planet: 
Moreover, valuable human resources and skills such as hand weaving, spinning, embroidery, printing are all vanishing because of faster and cheaper manufacturing and industrialization of fashion that has been wiping out traditional textile and garment techniques around the world. IT leaves entire communities with lost making and manufacturing capabilities. 
Fashion is indeed fabulous. 
It helps us in expressing our personality, making us feel empowered without saying a single word.
Fashion creates millions of jobs, playing a big part in the global economy.   
However, with the world's growing population, we need to make sure that we can continue to enjoy fashion without compromising the planetary boundaries. We need to reduce our reliance on natural resources further, our impact on our climate, waste, and water consumption, just to name just a few of the challenges we face.  
Taking it all into consideration, we believe it's time to make an emphasis on reducing consumption and overproduction instead of encouraging it.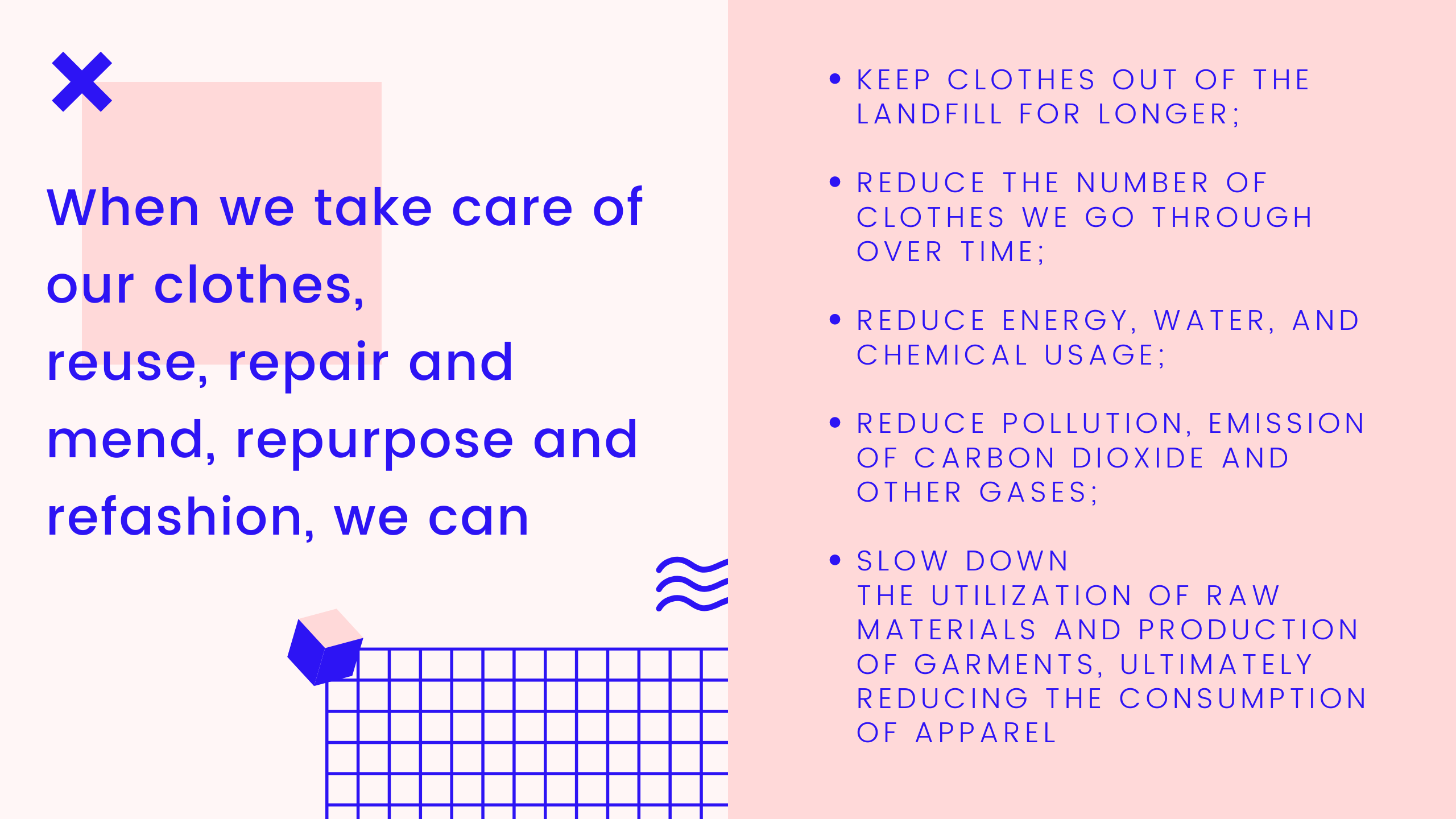 We have to take a step back and appreciate what they already have. It's time to rethink what we call "waste." 
We are currently living in an era of global instability, socially, environmentally, politically, economically even.
If you are one of the many experiencing stress, anxiety, panic, and dread, it is important to practice mindfulness. One of the ways is to keep your hands busy at times of unease and uncertainty, unlocking your creativity. 
We want to give you an idea of reusing and repurposing old clothing, taking a piece that already exists, bringing it fresh new life and unique appearance. When we upcycle, we take action to heal our broken system. Isn't it an act of resistance? A rejection of the kind of capitalist system that puts profit before the wellbeing of people and the planet?  
Upcycling is about using what you already have, rejecting the idea that newer is better. It's about fixing what's broken and embracing imperfections. Upcycling is meditative, productive, and deeply satisfying slow work. And yes, it's exceptionally sustainable, not requiring virgin materials or cutting-edge technology. 
These days, stay-at-home measures at most places around the world may restrict creatives to source materials from their favorite stores and suppliers. There is a solution right in front of our eyes – embrace limitations and explore new avenues! Use materials you have at hand and challenge yourself on how far you can go with your creativity. 
We have an opportunity to do fashion right with the touch of a scrappy approach. 
Are you ready to explore your imagination and curiosity? Lean on your flow and see where it takes you.  
Let's protect it and perceive waste as a valuable resource.
Fashion is no longer disposable. And we're gathering here to prove it. 
STAY TUNED!
AS WE ARE ABOUT TO ANNOUNCE THE LAUNCH OF THE CAMPAIGN ON MONDAY JUNE 29TH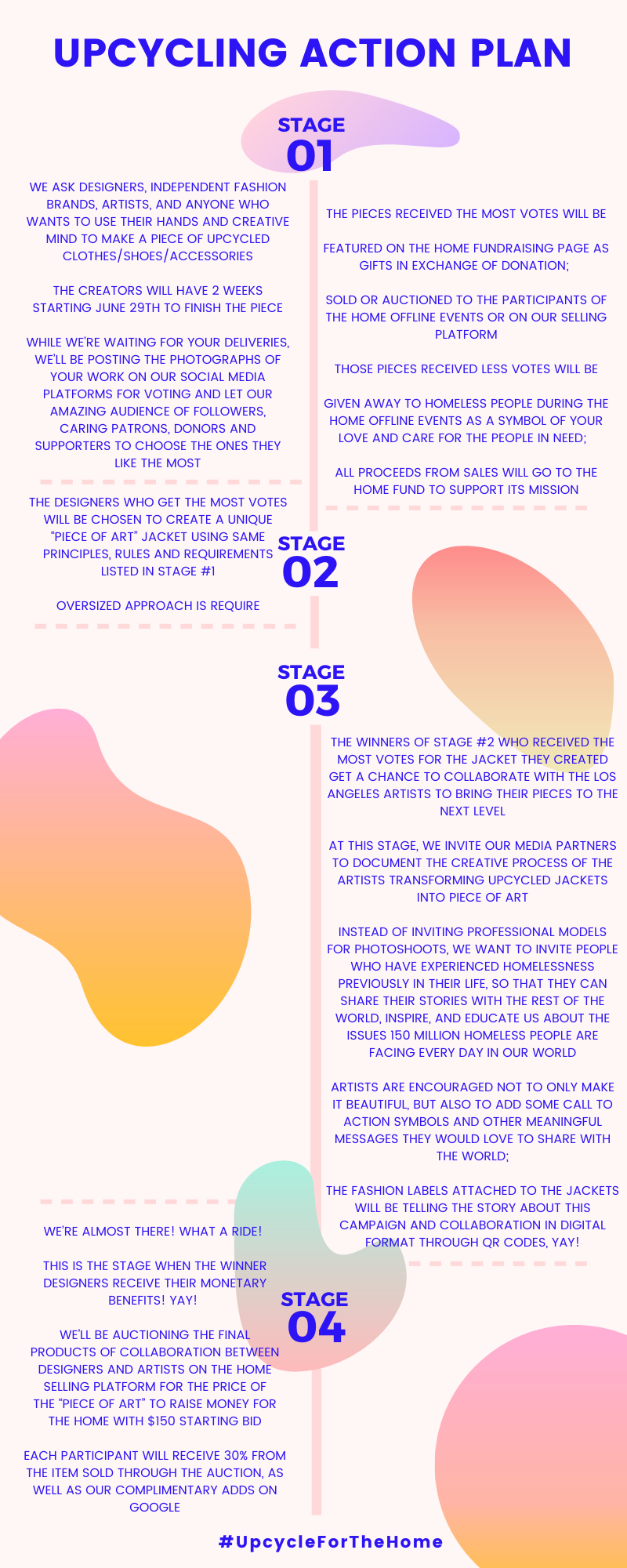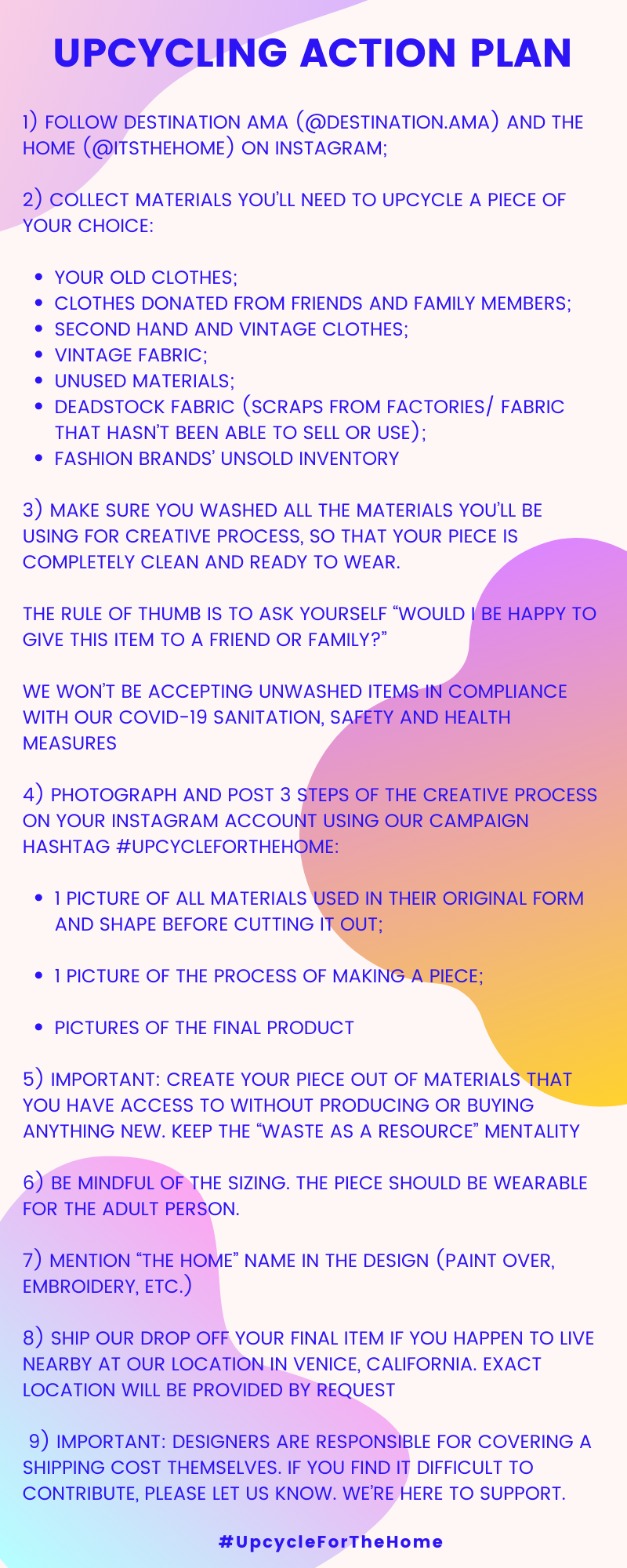 We invite fashion brands, independent fashion designers, artists, and anyone who simply wants to create to participate in our #UpcycleForTheHome contest we'll be hosting on Instagram. We will donate all the pieces to THE Home fundraising to support its mission.
And now, let's #UpcycleForTheHome