Dear Homies,
Today we are blessed to introduce to U our new partner with who we will build an educational component of THE Home. Below, U will find an introduction from the founders of Kakuma Learning Network, Jalil Hajimir, and Aman Sahota.
"Our mission is to give hope and happiness to students within Kakuma through educational projects and resources. Kakuma Learning Network focuses on providing sustainable education- which developed from Aman and Jalil merging their interests of sustainability and education. As their interests began to align, they approached Michael Aguero Bol to form their first project, Hope Givers, a platform connecting student volunteers with refugee students living in Kakuma Refugee Camp. After seeing how quickly Hope Givers grew to support the needs of the refugee students living in Kakuma, Aman and Jalil began creating additional projects under the Kakuma Learning Network umbrella. Today, Kakuma Learning Network has 6 unique projects:
International Story Telling Competition

Hope Givers

From Camp to Campus

Kakuma STEM

Refugees for Refugees

Pascal Academy Africa
Information about these projects will be provided in the upcoming weeks. 
Kakuma Refugee Camp is the largest refugee camp in the world, holding over 180,000 people. The camp was established in 1992 by the UNHCR in order to host the "Lost Boys of Sudan"  that included 40,000 Sudanese boys displaced from the Civil War. Many of the people that arrive in Kakuma come from war-torn countries and have seen unimaginable things. The problems of the camp include lack of hope, resources, awareness, and support. Kakuma Learning Network takes a project-based learning approach to try and help alleviate these problems through sustainable education.
Kakuma Learning Network is launching and hosting a pilot storytelling competition outside of Kakuma Camp as a way to introduce the camp as well as the organization to the world. This storytelling competition is meant to raise awareness about Kakuma Camp and give the students a platform to share their personal stories. Coming from war-torn areas, many refugees suffer from stress and trauma. One way to help them cope with stress and trauma is through storytelling, as it increases emotional intelligence.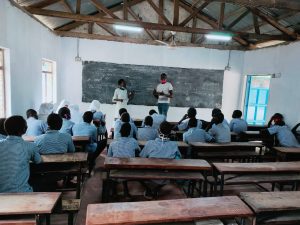 Michael Aguero Bol and Julia are explaining the storytelling competition in Kakuma.
We are currently holding a pilot run of our storytelling competition until January 24th, 2021. Stories should be free-form and a maximum of 800 words. The recommended themes are hope, dreams, education, and happiness. The only restriction for this competition is no sexual content. This storytelling competition is meant to give voices to those in the camp and receive moral support from their brothers and sisters internationally. By building an international community, we will spread awareness about Kakuma to the world."
If U want to support this beautiful mission, please, reach out to asahotaedu@gmail.com, or submit your stories through this form
---
---
Having a background in building successful business from scratch, creating and using new strategies, Nika always knew, that one day she will bring all this experience in service of humanitarian efforts, as nothing inspires her more than being able to help someone in need. Nika's main focus is to bring holistic approach to problem solving, when there is no need to choose just one issue to work with, but instead to create a structure, where problems will be solving each other as in the nature's codependent eco-system
All author posts